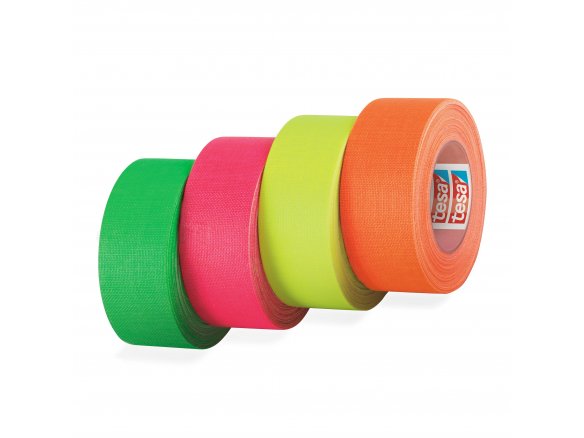 Small quantity
High adhesion even on rough surfaces
Can be torn off exactly by hand
Markable
Residue-free removable
Backing material

Acrylate-coated fabric made of rayon

Type of adhesive

Natural rubber

Fabric

mesh 120

Tape thickness

0.28 mm

Adhesion force

3.5N / cm

Temperature resistance

Up to +140°C

Colors

Neon yellow, neon green, neon orange, neon pink (non-reflective)
If you're not currently working in stage or exhibition construction, you probably won't be able to do much with 25m rolls of neon-colored duct tape. With a length of only 5 m, we offer you a small amount of strong tape in four eye-catching colors: for floor markings, for marking cables and covering sharp edges or for smaller tape art projects.
Tesa Neon-Tape has a matte, markable surface, can be torn off by hand and holds with its strong adhesive strength even on rough surfaces such as stone, asphalt and concrete. Nevertheless, you can remove it easily and residue-free.
Note: Tesaband Neon-Tape is only available in our shop, because we get the rolls sorted by color and therefore cannot consider your desired color during shipping.
Tesa tesaband neon fabric tape, small roll, 19 mm x 5 m, colour sorted