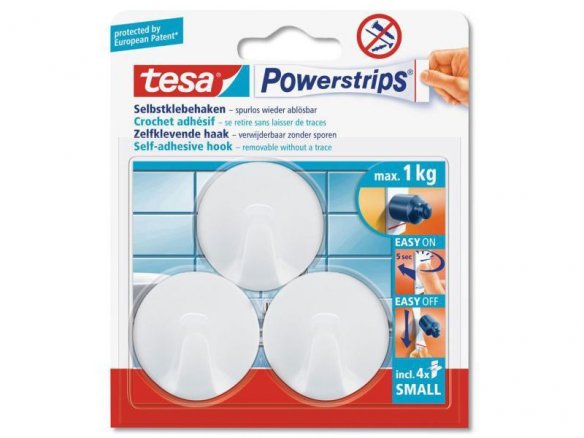 polystyrene, diameter = 41 mm, h = 18 mm, clear width of the hook is ca. 9 mm, includes 4 small Powerstrips, bearing capacity is max. 0.75 kilogram
These white round hooks made of plastic are not exactly designer objects, but they are a great way to temporarily hang something on a wall quickly, easily and residue-free. They work best on the flattest and smoothest surfaces available like metal or tile (see maximum bearing capacity). If the surface is bumpy and/or porous, it should be put under less stress – in the case of plaster, for instance, Tesa recommends that you encumber the hook with no more than 100 grams.
After being used once, the hook can be used again with a new Powerstrip.
Tesa Powerstrips round hook, 3 hooks/4 strips, white