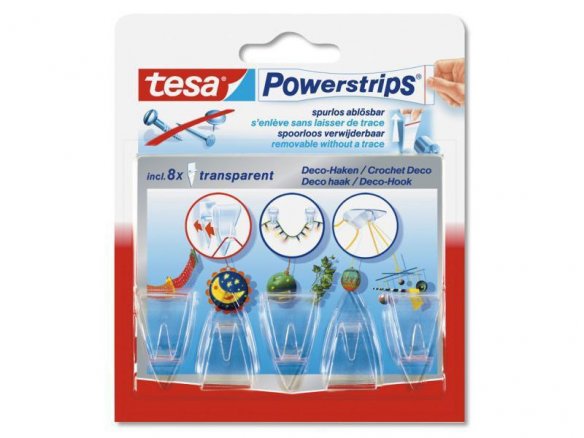 polystyrene, l = 34 mm, w (upper) = 19 mm, h = 13 mm, clear width (opening) of the hook is ca. 5 mm, includes 8 transparent Powerstrips, high degree of UV resistance, bearing capacity; not specified
As compared to the other Powerstrips hooks, these have the advantage of being transparent, which means they are practically invisible on windows (and not only there!). It goes without saying that there are transparent Powerstrips to go with them. These hooks can be used in a number of ways: if you use them as a cable guideway (as in strings of lights), you can not only wedge the cables in the hooks but also in the crook of the hook itself (see picture). This means these hooks can also serve as quickly mounted cleats on the ceiling and can be used when turned upside down on a wall.
All the other attributes of Tesa hooks are also there with these: you can quickly hang something on the wall or on a metal cabinet and later remove it just as quickly and that without leaving any traces. The manufacturer provides no specifications as to bearing capacity so we are somewhat careful to make any claims of our own – nevertheless, we will say that, at best, you should figure on a bearing capacity of 300 grams per hook.
Tesa Powerstrips deco-hook, 5 hooks/8 strips, transparent