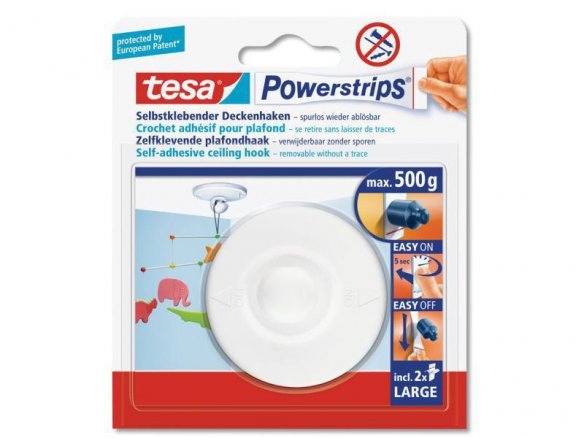 polystyrene, diameter = 60 mm, h = 23 mm, for objects with a thickness up to 3/6 mm (i.e. the width of the opening/diameter of the hanging slot), includes 2 large Powerstrips, bearing capacity is max. 0.5 kilograms
Putting a hook on the ceiling by means of wall-anchors takes a lot of time and, of course, makes holes everywhere. These ceiling hooks can be mounted quickly and easily and are a more elegant solution: first, a Powerstrip is glued to the ceiling by pressing it for at least 5 seconds, then a small plastic disc is pressed onto the Powerstrip and, finally, the actual white hook is then slid onto that. Both mounting and removal is quick and easy and it leaves practically no trace on almost any substrate surface.
The hook rotates 360 degrees which means that movement is possible (for example, in the case of a hanging mobile) and also makes orientation that much easier. The ball hook has a three millimeter opening while the round slot for hanging has a diameter of 6 millimeters, making it possible to hang or thread thicker wire hooks or cables.
After being used once, the hook can be used again with a new Powerstrip.
Tesa Powerstrips ceiling hook, 1 hook/2 strips, white