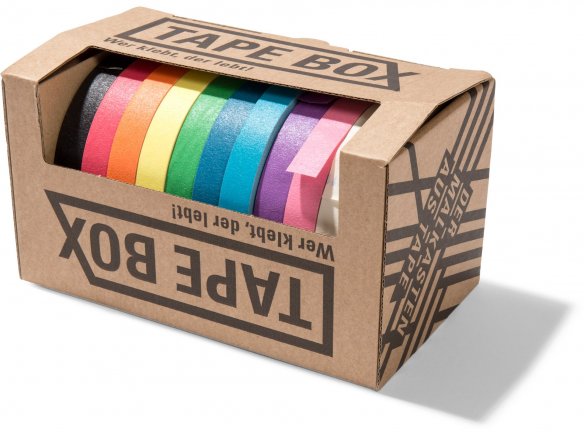 Sticks to many surfaces
Residue-free removable
Especially for indoor taping
Adhesive

acrylate

Tape thickness

0,09 mm

Backing material

special paper

Adhesive strength on steel

1,4 N/cm

Tear resistance

31 N/cm

Elongation at tear

7 %

Temperature resistance

up to 10°C

Colours

blue, yellow, green, lilac, pink, orange, red, black, turquoise, white
Your colourful "paintbox" made of tape!
The 10 different colours of the tape rolls make it possible for you to create any motif you might want. All you need are your hands, an area where you can "romp" and at least a smidgen of an idea.
The 15 mm wide tapes stick to many different type surfaces and can also be removed if necessary without leaving any residue. It doesn´t matter if you are working on stone, wood or metal or whether you are redesigning and decorating laptops, door, tables, lamps or partitions: The possibilities are practically endless. And with our design crepe tapes we also offer the original colour tapes for refilling the box.
 Tape Art got its start in the graffiti scene. Over the years taping has developed into its own art form. The German tape scene naturally originated in Berlin. And it was exactly here that this Tape Art box set was developed - jointly with the artists of in the scene and the adhesive tape specialists "Klebeland".
Tape Art box set, 25 m x 15 mm, special paper, set of 10