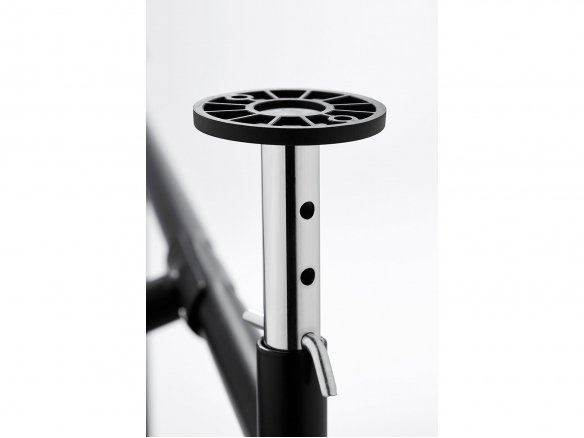 universally
multifunctional
Material

plastic, polypropylene, in black

Dimensions

diameter is 55 mm, height including shaft is 25 mm, structural nubs = 5mm (with cover 7 mm)
This newly developed tabletop support created by Adam Wieland is a combination anti-slip rubber stopper and attaching head plate. It is made completely with relatively soft black polypropylene and considerably reduces the danger of a tabletop slipping off the frame or getting out of position. The tabletop support can alternatively be directly attached to the tabletop with screws.
If you do not want to damage the bottom of your tabletop or you want to use one made of glass, the tabletop support and the perfectly matching rubber cover piece provide the best combination of security and appearance. The very soft rubber compound and the large surface area of support provide the highest degree of protection against slippage while the indentations in the tabletop support are made to perfectly receive the cover material so that it stays in place as well.
Both the tabletop support and the cover material are made exclusively in Germany and will fit all E2 table frames and height adjusters made between the year 1965 and today.
Tip
Screws for attaching the support directly to the tabletop are not included.
Tabletop support E2 table frame
5 Variants