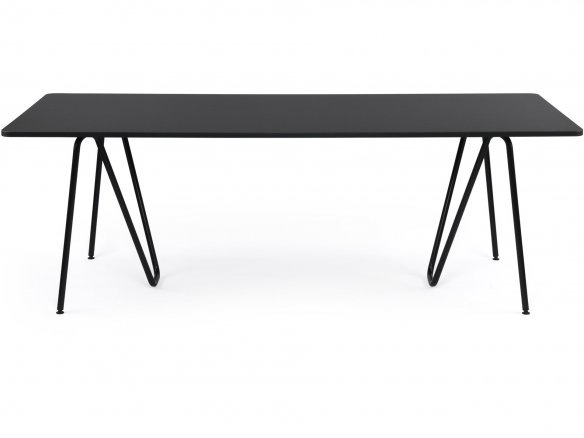 tubular (25 mm diameter) steel, inner diameter 20 mm, powder-coated or chrome-plated; plastic support pads for holding the tabletop, height-adjustable disc bases (30 mm diameter) with ball and socket joints and screw threads; given dimensions: height x width x length, when adjustable disc bases screwed completely out the height is about 735 mm; weight: approx. 9 kg per pair; design: Daniel Lorch
If you do not have a lot of space or you want to frequently put up and take down a table or if the two unique tubular trestles simply appeal to your tastes, you will find the Sinus to be not only a flexible and aesthetically pleasing table trestle that can hold its own when compared to an actual table frame, but one that, with its 25 mm diameter tubular steel construction, is very stable and steady on its feet. It has a reliable supporting system for both thick and thin tabletops; in the interests of proportionality between the trestles and the tabletop, the tabletop should be of an appropriate size. It should be at least 800 mm wide but better would be 900 or 1,000 mm; the length should run between 1,800 and 2,200 mm.
The tubular steel has a hole drilled into it at the table support point so that you have the choice of either simply laying the tabletop on the plastic support pads supplied for that purpose (for heavy tables, this should be sufficient) or you can screw the tabletop on permanently by means of a spax screw.