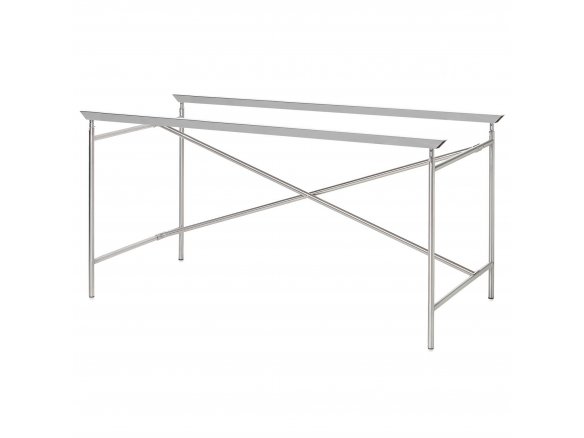 material

square steel tube, 30 x 30 mm, wall thickness is 2 mm, has round hole on both ends, ends are cut at an angle, each end with a drilled hole in the upper

Given dimension

upper side length (length of bottom side = 1388 mm)
As a means to prevent a table top on an E2 table frame from sagging, this steel tabletop supporter can be added as a bracing element. Its use can be necessary in cases of really heavy or really thin tabletops.
The supports can be simply placed on the upper ends of the base frame (or on the height adjuster) and the tabletop then placed directly on them. The addition of these supports does not change the table height to any appreciable degree; namely, exactly the amount of the wall thickness of the support, which is 2 mm. Through the use of spax screws, the table top itself can be permanently attached to this added support piece – the holes necessary for this step have been supplied on the ends of the support. Note: usually the extra foam rubber support pieces that are included with your order are enough to ensure stability and prevent the table top from slipping or sliding out of position.
We only carry this tabletop supporter for the E2 table frame version that includes crossbars and then only for the ones with a length of 1350 mm (not the 800 mm or 1000 mm lengths!). These supports are normally not necessary for those smaller tables with a smaller frame width. In cases where this rule doesn't apply, please get in touch with us – customized fabrications are always possible.
Table top supporter for E2 table frame
7 Variants