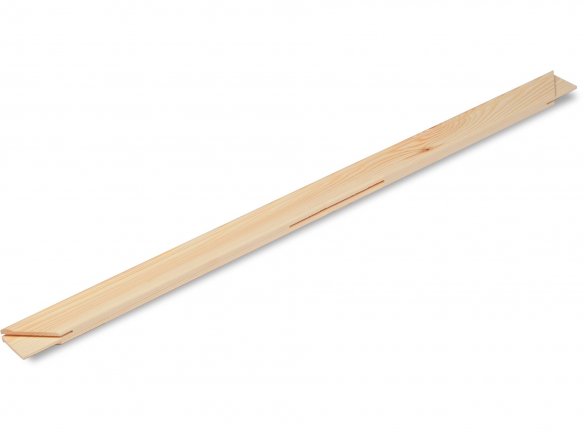 material

softwood from sustainable European forests

Shortcuts

D = depth of bar, BW = bar width
The classic standard stretcher bar with a profile cross-section of 19 x 45 is perfect for making rectangular and square stretcher frames with edge lengths up to 2500 x 2500 mm. Starting at the 800 mm length, the bar has a slot in the middle (2 slots starting at 2000 mm) where intermediate bars can be inserted for stability purposes (Center Bar f. Stretcher Frame). The bars can also be mounted crosswise over each other. The number of bars needed is determined by halving the number of slots in the four frame bars: a frame with an edge length of 1000 x 1000 requires, then, 2 intermediate bars that can be lain over each other crosswise (cross braces).
Standard stretcher bars are optimized for canvas prints; i.e. they have a prominently rounded outer edge over which the printed canvas can be stretched without having the print ink peel off. In addition, the rounded, raised edges create a clearance between the stretched canvas and the frame, which assures that the frame will not push through it when the canvas is primed.
Standard stretcher bars are finger-jointed; i.e. destabilizing elements in the wood like knots and fissures are removed, the flange ends cut into wedge shapes, pushed together and glued. The finger jointing produces a sturdy connection that is capable of bearing loads.
In order to assemble and stretch a stretcher frame the following items are required:
4 stretcher bars
8 wooden wedges
1-6 intermediate (center) bars (for side lengths of 800 mm and more)
Hammer
Stapler with 4-6 mm staples
Fabric for stretching
Canvas stretching pliers
Stretcher bar, standard, D = 19 mm, BW = 45 mm
19 Variants
with a slotting
without slotting
180 mm
200 mm
240 mm
250 mm
300 mm
350 mm
400 mm
450 mm
500 mm
550 mm
600 mm
650 mm
700 mm
750 mm
800 mm
850 mm
900 mm
950 mm
1.000 mm
Note
The wedges required for stretching can be found under WOOD WEDGES FOR STRETCHER FRAMES.