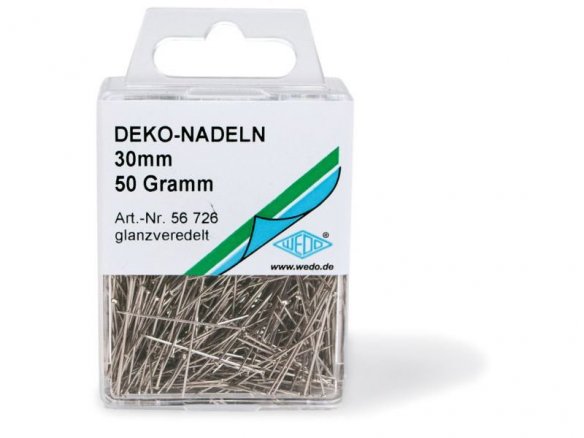 iron or steel, rust protected by nickel plating or coloured lacquer coat, small head, given dimensions: l x ø
These pins are not really intended for tailoring purposes but rather for use in offices, for handicrafts and for doing decorating work. The steel used in their making is not hardened and these pins lack the kind of elasticity that one would hope to find when working with pins. These pins are intended for attaching paper sheets or maple leaves, for model making or for attaching press passes – basically for all applications in which such pins are not considered to be actual tools that will be seeing a lot of repeated use – occasional use, then!
The prices of these pins can vary quite a bit. The different prices do not arise because some pins are a better quality but rather because standard lengths are sold in larger numbers and are therefore cheaper.
Straight pins, iron or mild steel
3 Variants