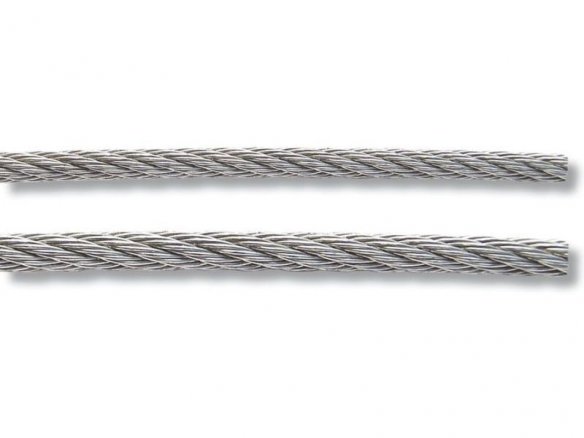 twisted steel wire, a wire rope as described by EN 12385-4, for information about the cord construction see the "Information about Steel Wire Ropes"
Thin wire ropes are often found being used for hanging and presenting pictures while thicker versions with diameters from two to four millimetres are strong enough to hang them all the way across a room in order to hang a curtain, lighting elements or the like at the desired height. These ropes, whether hung vertically or horizontally, can be used in combination with MAGNETS as another method for hanging pictures or just notes or memos. You might note that our presentation system QUADRAT HOCH ZWEI uses a similar display principle.
The surfaces of galvanised wire ropes are protected from the influences of weather and therefore rust-free to a certain extent. If the galvanisation is damaged the protection will no longer work. The alternative product would be the PVC jacketed wire rope or one made of stainless steel.
Wire ropes can be formed into a loop by using SIMPLEX or DUPLEX CLIPS. We do have on offer steel wires that have been made up in this way for the purpose of hanging in a GALLERY SYSTEM: the STEEL WIRE WITH HOLDING BRACKET is one example.
Steel wire rope, galvanised
2 Variants