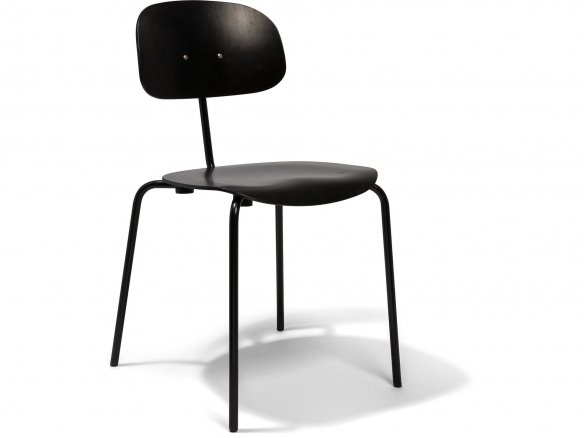 Original
Made in Germany
Sturdy and durable
Stackable
steel-tube frame with 4 legs, round tubes, ø 18 mm, wall thickness 2 mm, glossy chrome-plated, with black PVC floor gliders, seat area and seatback made from beech laminated moulded wood, th = 8 mm, varnished with environmentally friendly DD (polyurethane) varnish stackable: approx. 10 chairs, weight: approx. 4 kg, given dimensions = total height/seat height x width x depth, conceptual design: Rudolf Kleinkopf, 1952, Manufacturer: Kleinkopf Stahlrohrmöbel GmbH
The steel-tube chair 118 consists of two steel tube side pieces that are bent at the middle point and welded to a single rod seatback tube as the central hub. The single rod has a beautifully shaped metal plate where the backrest itself can be screwed on with two screws. The moulded wooden laminate seat is three-dimensionally shaped and ergonomically formed in terms of the seat and leg hollows.
All the wooden parts consist of beech veneer that is glued 9 times and then sealed with different coloured stains and environmentally friendly DD varnish.
Steel-tube chair 118, stackable
15 Variants
Note
Please note that the seat and backrest are colour stained and clear varnished laminated wood pieces made of beech. Because the raw materials come from different regions with different environmental influences, the wooden pieces will not be uniform. Even when stained a number of times the differences can still be seen in the wooden grain - which in our view really serves to accentuate the vivacity of the wood!