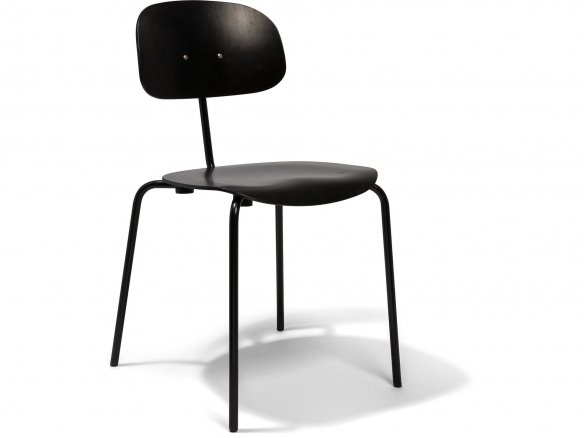 Original
Made in Germany
Sturdy and durable
Stackable
Material frame

Cross-base frame made of steel tubing

Chair tubing

Round pipe, 18 x 2 mm diameter, black or extra bright chrome-plated, with black PVC floor guides

Material back & seat

beech, 8 mm thick plywood

Paint

environmentally-friendly DD (desmodur/desmophen) paint

Stackability

about 10 chairs

Weight

approximately 4 kg

Total Height

810 mm

Seat Height

450 mm

Width x Depth

500 x 480 mm

Design

Rudolf Kleinkopf (1949)
The tubular steel chair, model 118, consists of two steel tube side parts which are bent to the chair center and welded with a single backrest at a junction.The one-piece backrest has a shapely pressed metal tab at the end for double screwing the backrest. The wooden seat is three-dimensionally formed and shaped with ergonomic sitting and leg depressions.
All wooden parts are made of 9-ply beech veneer and are stained in different shades and sealed with environmentally-friendly DD varnish. 


Steel-tube chair 118, stackable
19 Variants
Note
Please note that the seat and backrest are colour stained and clear varnished laminated wood pieces made of beech. Because the raw materials come from different regions with different environmental influences, the wooden pieces will not be uniform. Even when stained a number of times the differences can still be seen in the wooden grain - which in our view really serves to accentuate the vivacity of the wood!