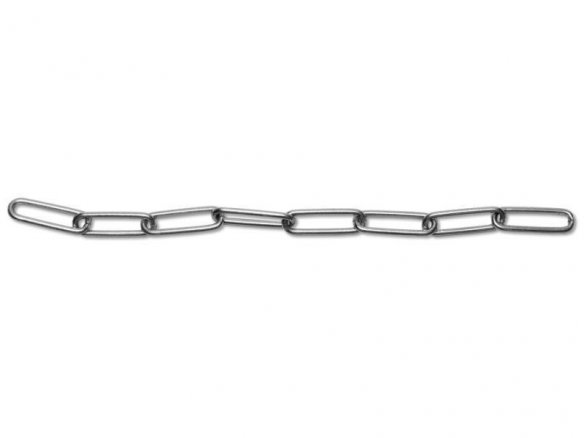 Type C (long linked), welded chain as per DIN 5685, given dimensions: thickness of the metal x link length (inner) x link width (outer)
These are strong chains for hanging, pulling, securing and blocking off. If you want to encase the chain in rubber in the way familiar with bicycle chains, we recommend you use our HEAT SHRINKABLE TUBING or an old bicycle tube. Please take a look at our fine selection of HOOKS, which can be very helpful for hanging purposes.
The maximum bearing capacity of the individual chains is as follows:
1,5 x 23,0 x 8,0 mm 12 kg
3,5 x 28,0 x 14,0 mm 63 kg
The maximum recommended bearing capacity is a calculated one because chains are not subject to quality requirements. Chains conforming to DIN 5685 are not tested to the norms of DIN 685, part 3 and are not allowed to be used as a means of suspension or as a weight bearing device as set out in DIN 15003 and are also not to be used for the static hanging of loads.
For example: if the theoretical breaking strength of a chain is 96 kg, the quotient of 98¸ 8 (the "one-eighth" security factor) gives the actual maximum bearing capacity of 12 kg. This "security factor" specifies by what factor a construction element's ability to be stressed must be diminished based on such things as tolerances, material defects, etc. This is a theoretical calculation. The factor runs between 1 and 10. Ten is the highest security value and is applied to things like elevator cables. The recommended bearing capacity of the chains in our assortment is calculated using a security factor of 8. All information regarding bearing capacity is none-the-less non-binding (without liability) and not guaranteed by Modulor.
Steel link chain, welded
2 Variants