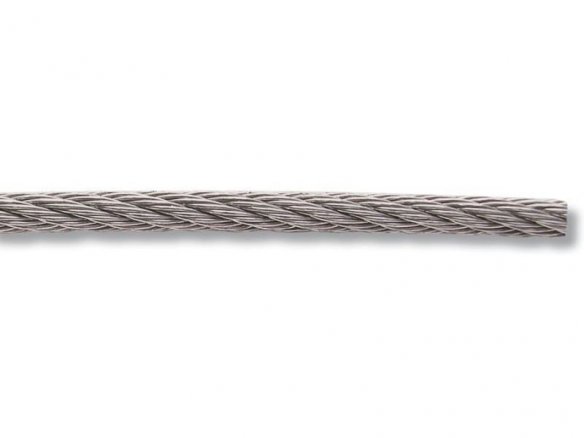 twisted steel wire made of stainless steel grade 1.4401, a wire rope as described by EN 12385-4, for information about the cord construction see the "Information about Steel Wire Ropes"
Top qualitiy wire rope is made with stainless steel, which will not rust (but, on the other hand, is not usually magnetic either!). Stainless steel construction elements are definitely recommended when their use will include exposure to moisture – in the case of wire rope, one can alternatively use the PVC jacketed version instead.
Wire ropes can be formed into a loop by using SIMPLEX or DUPLEX CLIPS. We do have on offer steel wires that have been made up in this way for the purpose of hanging in a GALLERY SYSTEM: the STEEL WIRE WITH HOLDING BRACKET is one example.
Stainless steel wire rope, ø 2.0 mm, 7 x 7 (max. 40 kg)