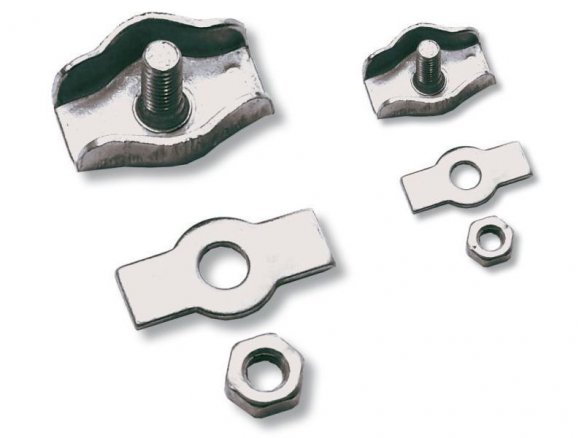 Stainless steel 1.4401, given dimensions: maximum rope diameter x diameter of the screw x total length of the clamp
These clamps are used to make loops and releasable end connections on all kinds of ropes (wire, textile, hemp, etc.), which can then be used for mounting and hanging purposes. To do this, one end of the rope needs to be bent around and the clamp placed over the doubled-up rope at the bottom end of the loop and screwed tight. No exact information can be given as to the stability of such a clamp connection but it can be noted that the stability of a DUPLEX CLAMP, which works on the same principle but with twice as much area being clamped, is definitely (and naturally) higher.
When making a loop, especially in the case of a wire rope, the curve should be kept to a minimum in order to avoid crimping the rope and permanently damaging it; the radius of the loop on a wire rope should be at least 18 times its diameter and for a fibre rope it should be 6 times the diameter. A CABLE EYE STIFFENER can also be used to stabilize such loops or slings.
Simplex wire rope clamp
4 Variants