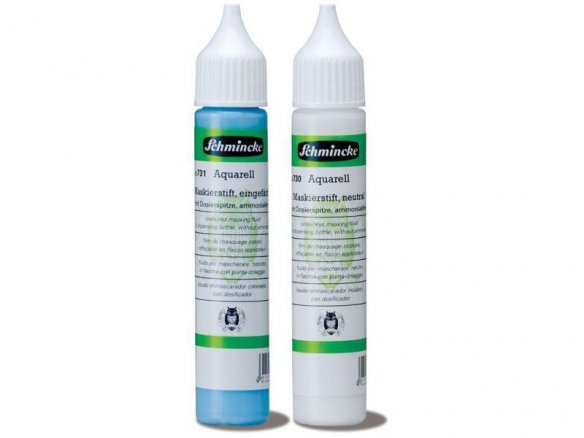 masking medium for watercolour painting, fluid copolydispersion, ammonia-free, pH is ca. 10, boiling point: ca. +100 °C, can be removed, colourless (neutral) or, alternatively coloured (blue), liquid, no hazardous label required by the German Hazardous Substance Ordinance ...
The Schmincke masking liquid dispensing bottle contains a colourless or blue-coloured masking liquid (if the artist wants to be able to see it better during his work). The liquid is used in watercolour painting to temporarily cover details in pictures on watercolour paper, drawing board, photographs or the like so that they remain untouched by subsequent paint applications. The elements that are to be protected are pre-drawn with the dosing bottle onto dry paper and then later painted over. Masking liquid should not be left on the paper any longer than 2 days, after which it should be completely removed (rub it off with your finger or an eraser).
The masking dispenser bottle can also be used for airbrushing with acrylic paints. For larger area covering work we recommend the SCHMINCKE LIQUID FRISKET that can be applied with a brush.
Schmincke masking fluid dispensing bottle
2 Variants