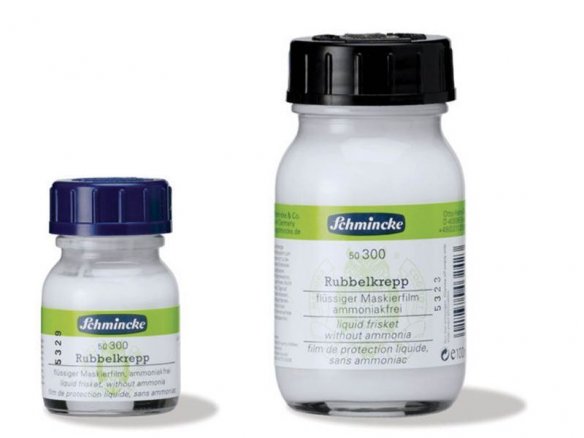 masking medium for watercolour painting, liquid copolymer dispersion, ammonia-free, pH is ca. 10, boiling temperature: +100 °C, removable, colourless, liquid, no hazardous label required by the German Hazardous Substance Ordinance ...
Schmincke liquid frisket is a colourless masking liquid that can be used in watercolour painting to temporarily cover parts of the picture substrate (watercolour paper, drawing board, photos, etc.) or coloured portions of the picture so that they remain untouched by subsequent paint applications. It is recommended that the liquid (undiluted) be applied to dry paper with a cotton swab, wooden rod, quill, nib or a fine brush. The rest of the painting work can only then begin after the masking liquid has dried. Liquid frisket should not be left on the paper any longer than 2 days, after which it should be completely removed (rub it off with your finger or an eraser). A slight yellowing may appear, depending on the grade of paper being used.
For very fine and precise masking work such as, for example script, the SCHMINCKE MASKING FLUID DISPENSING BOTTLE can be used.
Schmincke liquid frisket (masking)
2 Variants