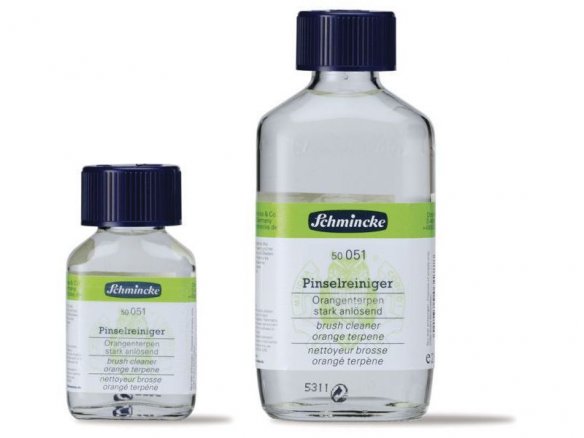 removes dried oil and acrylic paints, contains surfactant, ester and orange peel oil, contains solvent, colourless transparent
Description
Hazard warnings
This pleasantly fresh smelling cleaner for oil and acrylic paints, synthetic resin lacquers and dispersion varnishes softens and loosens even obstinate and dried up paint or adhesive residues in brushes, tools, textiles and many more. Although the lacquer on a brush´s handle will not be corroded by the cleaner, it is still advisable to only dunk the brush up to the ferrule.
Danger, 1-methoxy-2-propanol = 10 - 20 %, Limonene = 2,5 - 10 %, methyl decanoate = 2,5 - 10 %, poly (ethylene oxide) mono-2-propylheptyl ether = < 3 %, (2-methoxymethylethoxy) propanol = 10 - 25 %, (VOC-Gehalt = 87 %), Aquatic Chronic 3, Eye Irrit. 2, Flam. Liq. 3, Skin Sens. 1
Hazard warnings
H226: Flammable liquid and vapour.
H317: May cause an allergic skin reaction.
H319: Causes serious eye irritation.
H412: Harmful to aquatic life with long lasting effects.
Safety instructions
P102: Keep out of reach of children.
P210: Keep away from heat, hot surfaces, sparks, open flames and other ignition sources. No smoking.
P243: Take action to prevent static discharges.
P260: Do not breathe dust / fume / gas / mist / vapours / spray.
P273: Avoid release to the environment.
P280: Wear protective gloves / protective clothing / eye protection / face protection.
P303+P361+P353: IF ON SKIN (or hair): Take off immediately all contaminated clothing. Rinse skin with water [or shower].
P305+P351+P338: IF IN EYES: Rinse cautiously with water for several minutes. Remove contact lenses, if present and easy to do. Continue rinsing.
Downloads
Schmincke brush cleaner with orange terpene
2 Variants