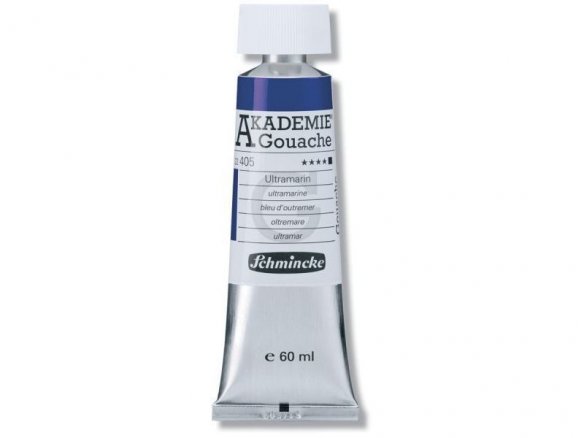 gouache paint made with pigments (no cadmium pigments), chalk and gum arabic; pasty consistency, high degree of coverage, use pure or thinned with water, silky-matte and opaque finish when dry, soluble even after drying, can be mixed with other Schmincke gouache and watercolour paints, complies with European safety norm EN 71-3 (toy safety)
The Schmincke Akademie gouache is especially great for beginners, leisure time artists as well as for use in fine arts education. It consists of coarsely ground pigments with the addition of chalk. The paint can be used for opaque as well as for glazing painting techniques (when diluted with water and in combination with watercolours): in this way pictures can be produced that display completely different surface effects. Akademy gouache stands out by virtue of its ease of application and resolubility attributes. In addition, it is odourless and easy to wash out.
The basic assortment of 18 colours can be intermixed with other Schmincke gouache or watercolour paints to create further colours (SCHMINCKE HORADAM AQUARELLE PAINT or SCHMINCKE AKADEMIE AQUARELLE PAINT). Extremely clean colour mixtures can be made by means of the 3 optimized ground colours: primary yellow, primary magenta and primary cyan. Together with black and white they are available in a set of 5. The basic set of 8 includes: white, lemon yellow, vermillion, crimson, ultramarine, phthalo green, light ochre and black.
A selection of painting auxiliaries, primers and a surface finish (SCHMINCKE AUXILIARIES FOR GOUACHE) complete the gouache assortment. 
Schmincke Akademie liquid gouache
20 Variants