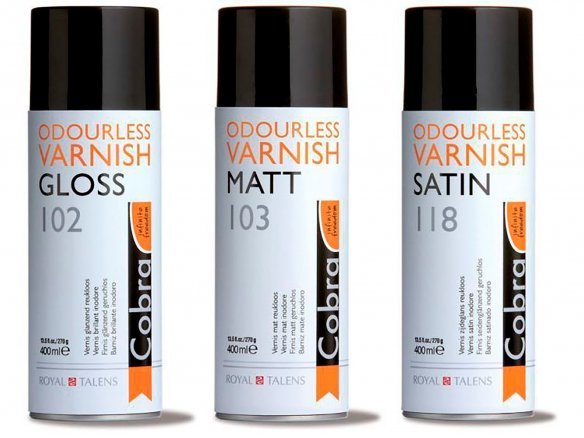 spray varnish for water-mixable oil paints, synthetic resin, white spirit, matting agent (in semi-gloss and matte versions), CFC-free, non-yellowing, won´t crack
Description
Hazard warnings
Cobra varnish provides long-term protection from aging, dirt and dust for any completed works done with oil. Depending on the gloss level of the varnish the finish can be glossy, semi-glossy or matte. 
Processing: The varnish should only be applied after allowing the complete drying of the paint - at the earliest after 6 to 12 months. For the best results when applying the varnish through spraying, the spray can should be held vertically and the spray allowed to fall from above onto the picture which should be lying flat. The dried varnish coating can be removed after a number of years with white spirit. That may be necessary if the surface of your work has become damaged or extremely dirty.
Danger, Naphtha (Erdöl), schwere Alkylat = 25 - 50 %, Butan = 10 - 25 %, Propan = 10 - 25 %, (VOC-Wert = 0,00 %), Flam. Aerosol 1, Aquatic Chronic 4
Hazard warnings
EUH066: Repeated exposure may cause skin dryness or cracking.
H222+H229: Extrem entzündbares Aerosol. Behälter steht unter Druck: kann bei Erwärmung bersten.
H413: May cause long lasting harmful effects to aquatic life.
Safety instructions
P101: If medical advice is needed, have product container or label at hand.
P102: Keep out of reach of children.
P210: Keep away from heat, hot surfaces, sparks, open flames and other ignition sources. No smoking.
P211: Do not spray on an open flame or other ignition source.
P251: Do not pierce or burn, aven after use.
P260: Do not breathe dust / fume / gas / mist / vapours / spray.
P271: Use only outdoors or in a well-ventilated area.
P410+P412: Protect from sunlight. Do not expose to temperatures exceeding 50°C / 122°F.
P501: Dispose of contents / container to …
Downloads
Royal Talens Cobra Varnish
3 Variants