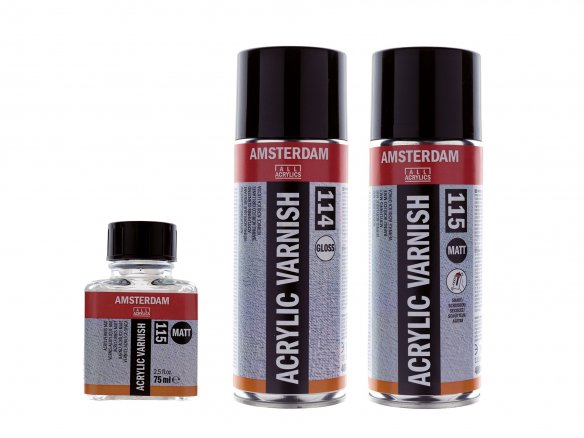 final varnish for acrylic and oil paints, acrylic resin-based, white spirit, turpentine oil, transparent colourless, non-yellowing, can be thinned and removed with white spirit
Description
Hazard warnings
This Amsterdam acrylic varnish provides a permanent protective coat against dust, dirt and moisture. This liquid varnish in a glass bottle can be applied with a flat paintbrush. The desired level of transparency can be attained by means of mixing the matte and the glossy versions (please note: do not use a plastic cup!). The spray version of this varnish is particularly useful for sealing purposes when making collages or embedding materials or working on especially rough surfaces.
Processing: The varnish should only be applied after a paint has completely dried - after 4 or 5 days in the case of acrylic paints, after 6 to 12 days for oil paints. Room temperature must be maintained for the picture as well as the varnish during the application and drying process because otherwise there is the danger of a whitish layer developing through condensation on the surface of your work. The matte liquid varnish should be applied in a single coat (even when mixed with the glossy version) in order to achieve an even surface and should only be applied in one direction. After drying, the coat of varnish can be removed with white spirit. This procedure might be required when the surface of your work has become extremely soiled or damaged.
Danger, Naphtha (Erdöl), hydrodesulfurierte schwere = 50 - 100 %, Terpentin, Öl = 10 - 25 %, (VOC-Wert = 0,00 %), Naphtha (Erdöl), hydrodesulfurierte schwere = 25 - 50 %, Butan = 10 - 25 %, Propan = 10 - 25 %, Propan-2-ol = 1 - 5 %, Terpentin, Öl = 10 -25 %, Flam. Liq. 3, STOT RE 1, Aquatic Chronic 2, Skin Irrit. 2, Eye Irrit. 2, Skin Sens. 1, STOT SE 3, Aerosol 1, Flam. Aerosol 1
Hazard warnings
H226: Flammable liquid and vapour.
H315: Causes skin irritation.
H317: May cause an allergic skin reaction.
H319: Causes serious eye irritation.
H336: May cause drowsiness or dizziness.
H372: Causes damage to organs through prolonged or repeated exposure .
H411: Toxic to aquatic life with long lasting effects.
EUH066: Repeated exposure may cause skin dryness or cracking.
H222+H229: Extrem entzündbares Aerosol. Behälter steht unter Druck: kann bei Erwärmung bersten.
Safety instructions
P101: If medical advice is needed, have product container or label at hand.
P102: Keep out of reach of children.
P271: Use only outdoors or in a well-ventilated area.
P302+P352: IF ON SKIN: Wash with plenty of water / …
P501: Dispose of contents / container to …
P210: Keep away from heat, hot surfaces, sparks, open flames and other ignition sources. No smoking.
P211: Do not spray on an open flame or other ignition source.
P251: Do not pierce or burn, aven after use.
P260: Do not breathe dust / fume / gas / mist / vapours / spray.
P410+P412: Protect from sunlight. Do not expose to temperatures exceeding 50°C / 122°F.
Downloads
Royal Talens Amsterdam varnish
4 Variants