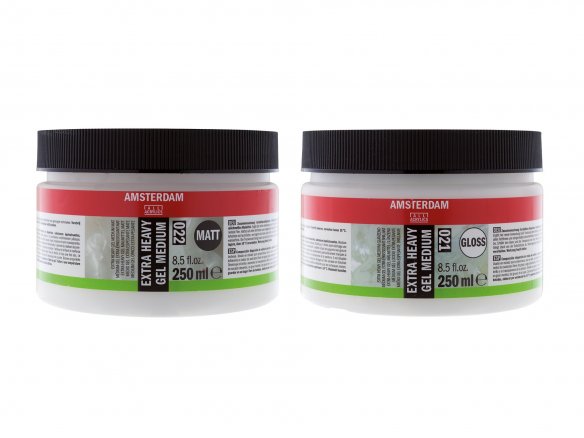 auxiliary agent for increasing viscosity and transparency of acrylic paints, acrylic resin dispersion (the matte version of the gel medium has the matting agent silicate), thickening agent, water-based, extremely pasty consistency, milky white in liquid form, transparent colourless when dry, can be thinned with water, waterproof, working temperature; at least +10 °C, store in frost-free conditions
The viscosity and transparency of an acrylic paint can be increased by mixing in this Amsterdam heavy gel medium. It should then be applied thickly with a palette knife or paintbrush whereby pronounced textures with lasting peaks can be created. Depending on whether you are using the matte or glossy version, the level of the paint´s glossiness will either be raised or lowered. This heavy gel medium can also be applied over an already dry acrylic paint in order to change the glossiness level after the paint has been applied. When applied in a very thick coat, the matte version of this gel will produce a semi-transparent "waxy" surface after drying.
All the Amsterdam gel mediums can also be used for gluing and embedding materials. The pastier the consistency of a gel, the heavier the materials can be. If sensitive materials like paper, sand or glass are being worked with, it makes sense to apply a prior coat to them in order to achieve optimal adherence.
Royal Talens Amsterdam extra heavy gel medium
2 Variants