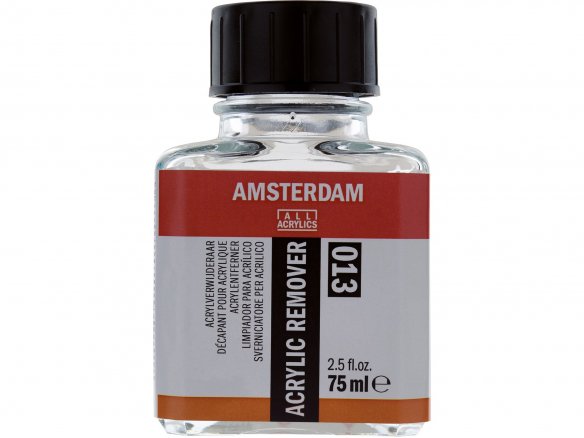 natural solvent (ethyl lactate), liquid, mild odour, completely biodegradable, hazardous warning: Xi = irritant
The Amsterdam acrylic remover removes dry acrylic paint from work utensils like paintbrushes and palettes. Paintbrushes should be soaked in this cleaning liquid for about 1 hour and then washed with soap and water. In order to make sure that residues of paint are removed from the ferrule edge, care must be taken that at least part of the ferrule is covered with the solution (no more than half, however, to avoid the eventuality that the paint on the handle will be corroded).
Royal Talens Amsterdam acrylic remover glass bottle, 75 ml (013)
Note
Amsterdam acrylic remover should not be used to remove dried coats of varnish because it can damage the acrylic paint underneath!