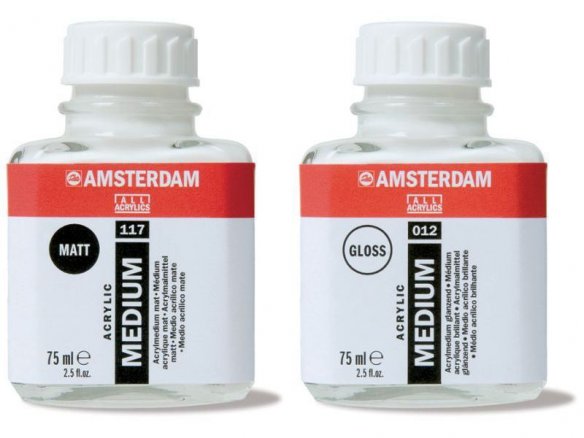 thinner for acrylic paints that still preserves the durability of the paint coat, acrylic resin dispersion (the matte version contains the matting agent silicate), water-based, milky white when liquid, colourless transparent and waterproof when dry, does not change drying times; working and drying temperatures: at least +10 °C, store in frost-free conditions
This acrylic medium is a thinning agent for acrylic paints that (in contrast to thinning with water) will not change the durability of the paint coat - which makes it great for glazing techniques with acrylic paint. If, additionally, you want to either increase or decrease the glossiness of the paint, you have the choice between the glossy and matte versions to work with. Both versions increase the elasticity of the dried coat of paint and have no effect on drying times. The milky white cloudiness disappears as the water evaporates out of the solution during the drying process.
Acrylic paint can indeed be thinned with water but if a large amount of water is introduced the proportion of the acrylic resin binding agent will become so low that the pigments will no longer be protected and can separate out. This can be avoided by using a thinning agent instead of water whereby the necessary proportion of acrylic resin in the paint will be retained. The amount that can be used has no limit.
Royal Talens Amsterdam acrylic medium
2 Variants