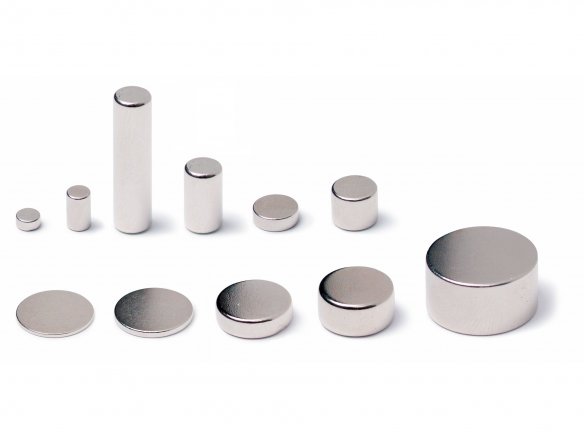 extremely powerful (10 to 15 times stronger than normal ferrite magnets of the same size)
neodymium magnets maintain their magnetic properties for decades
material

neodymium iron boron (NdFeB)

magnetisation direction

through the height (axial)

max. operating temperature

80 °C
These round magnets have any number of possible uses. The adhesive power of the magnets makes all the versions we have on offer good for use on refrigerators or pinboards although it should be noted that the flat magnets can be difficult to remove again because they attach so strongly and lack a good gripping area.
The largest round magnet that we offer, which has a 12 mm diameter, is also not good for such use unless of course you are planning to hang your jackets and overcoats on your magnetic pinboard – two of these magnets, it should be noted, still stick to one another through a 30 mm thick wooden board!
The magnets with diameters of 3 and 6 mm are great for attaching photos or postcards to a steel strip or a steel cable. The flat magnets with a diameter of 10 mm (h = 0.6 or, alternatively, 1.0 mm) are suitable for making original fasteners for binders, invitation cards or boxes. They can also be sewn into clothing when an invisible fastener is wanted. The round magnet in the shape of a rod – 5 mm diameter, h = 20 mm – can be used in conjunction with spherical neodymium magnets to make interesting spacial constructions.
Round magnets, neodymium, silver
11 Variants
3,00 mm
5,00 mm
6,00 mm
10,00 mm
12,00 mm
0,6 mm
1 mm
1,5 mm
2 mm
3 mm
5 mm
7 mm
10 mm
20 mm
Note
Neodymium magnets are extremely powerful. Crushing and bruising injuries can occur when handling these magnets, especially the larger ones. When two magnets collide together, small pieces can be broken off and cause injury. For these reasons the magnets should be handled carefully and they should definitely not be allowed to crash into one another from a distance. Magnets should never land in children's hands because swallowing them can lead to serious medical problems.

Particularly the larger neodymium magnets should never be stored or used near devices or objects that can be damaged by magnetism. This can include, among others, televisions and monitors, credit cards, bankcards, computers, data storage devices of all kinds, video and music cassettes, mechanical clocks and speakers. A large magnet can also disturb heart pacemakers. When in doubt you should exercise caution!