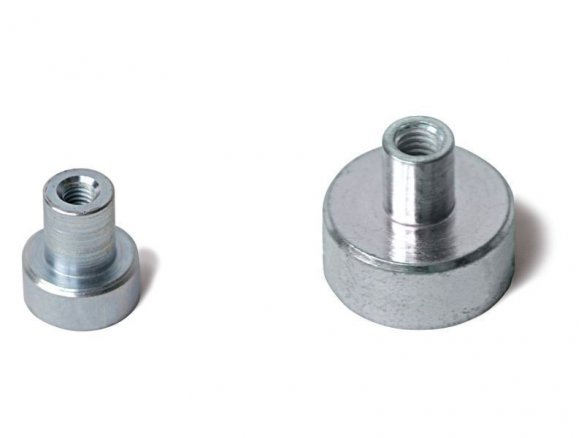 neodymium iron boron (NdFeB) core, galvanised steel housing with threaded bush, round, h= 4.5 mm (11.5 mm including the bush), extreme adherence strength (10 to 15 times stronger than a normal ferrite magnet of the same size), for use at maximum temperature of 80 °C
These magnets were originally developed for industrial use as holders of steel components. When used thusly, the magnets then transport, for example, a component from one machine to another. The steel housing serves to concentrate and enhance the magnetic strength at the point of the adhesive surface where it is attached while the surrounding area remains relatively free of magnetism.
These grip magnets have other uses beyond the industrial ones: if hooks are screwed into them, the magnets can serve as flexible shop decoration elements on walls or ceilings and when used in conjunction with a steel band they can replace gallery rails. Two of the grip magnets are strong enough to hold a cable stretched between them.
Round (grip) magnets with threaded bushing, silver
2 Variants