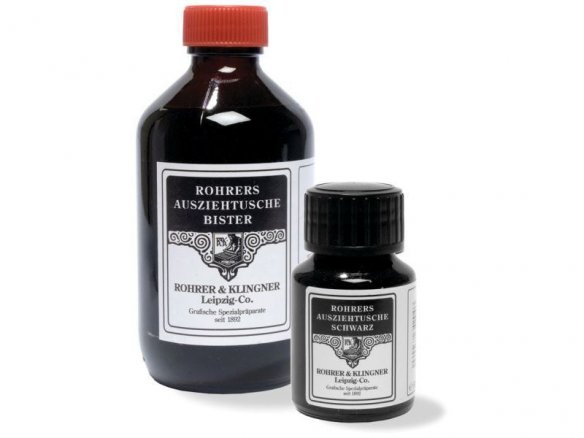 drawing (Indian) ink for nib pens, quills, brushes, airbrushes (NOT for fountain pens), can be thinned with distilled water, eraser-proof, waterproof; description of individual inks: see product information
Drawing Indian ink is more opaque (greater coverage!) than basic drawing ink because of a high percentage of shellac (binding agent), which makes it great for applying fine lines and outlines. Rohrer & Klingner drawing Indian ink has further applications like calligraphy and pen (nib) drawings but can also be a great choice for lift-ground etching as well as artistic picture drawings done with a brush and washing techinques.
Deep black, sepia and bistre hues:  These three hues are produced in the traditional manner using pigments and shellac in an aqueous medium. They can be thinned with distilled water, are waterproof and eraser-proof when dry and the ink has great flow characteristics. The deep black hue contains a special gas soot and when used in its pure form is highly opaque (great coverage) and lightfast (non-fading). When thinned with water, convincing light and dark effects can be achieved. The sepia hue matches the organic sepia tint of squid secretion, is semi-transparent and to a large extent light resistant. The bistre hue (French bistre = walnut brown) is a classic brown tint that has seen use since the 13th century in the field of drawing - it was previously produced from the soot of burned wood! It, too, is semi-transparent, to a large extent light resistant and is especially great for delicate washed pen and brush drawings. 
Gold and silver hues: Bronze pigments (copper alloys), acrylic resin and water form the basis of the gold hue. Coated glimmer pigments (Iriodin), shellac, acrylic resin and water form the basis of the silver hue. Both inks can be thinned with water and applied with quills, brushes or an airbrush (nozzle size: ø 0,5-0,8 mm) on paper, cardboard or wood. Extremely absorbent surfaces like canvas should be primed with GESSO before applying these inks. For smooth surfaces like glass or metal, preliminary tests should definitely be made to assess effectiveness. These hues are intermixable - interesting colour and metallic effects can be achieved by mixing with ROHRER & KLINGNER DRAWING INK. Coloured undergrounds will also affect the optical appearance of both hues. A dark red, for instance, greatly enhances the gold tint; green and blue are the preferred undergrounds for silver. These inks are waterproof when dry.
In order to draw and write with nibs and ink you will need paper or paperboard with a smooth surface so that the nib can glide smoothly over it. Paper that has both internal sizing and surface (tub) sizing is recommended because it prevents the ink from bleeding and increases the brightness of the colours being used. A soft paper, or one with a rough surface, can tend to puff up when written on with a nib pen, which can end up making the nib jam into the paper especially when making quick strokes. Drawing inks are very often also used on ACETATE FILM. In this case, however, preliminary trials are necessary in order to be certain that the ink will be properly absorbed. Among the types of paper that are great for use with ink and nibs are ELEPHANT HIDE, the paper in the HAHNEMÜHLE PEN AND INK DRAWING PAD or the satined paper found in the CLAIREFONTAINE writing pads and notebooks.
Rohrer & Klingner drawing Indian ink
8 Variants