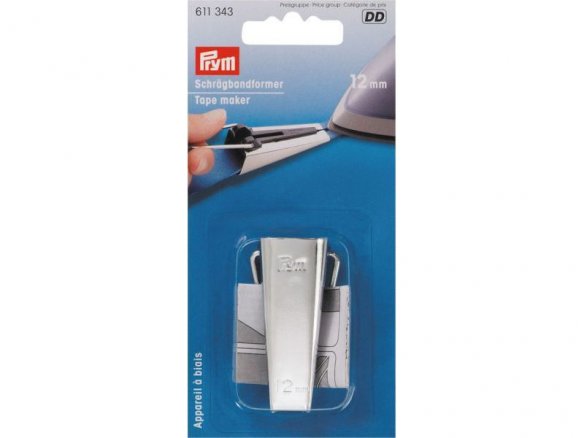 Bias binding tapes for making hems on cloth are available ready-made in many colours and widths. But if you need a bias tape for working on a material with an unusual colour or pattern you can use this device to make your own bias tape.
This is done by cutting a diagonal strip from your intended cloth that is twice as wide as the bias binding tape you will require and pushing that strip through your tape maker. This folds both outer edges of the strip towards the middle. In order to fix these folds in place, you simply continually iron over the material as the tape maker moves over the cloth strip making its folds.
Depending on whether you need to make a rounded or straight border, the way you cut your strips will differ: you either cut your strips diagonal to the grain direction or on a bias (hence the name) or parallel to the grain direction. A cloth strip that has been cut on a bias to the grain direction is stretchy, which allows it to better fit on a curve.
Prym tape maker
4 Variants