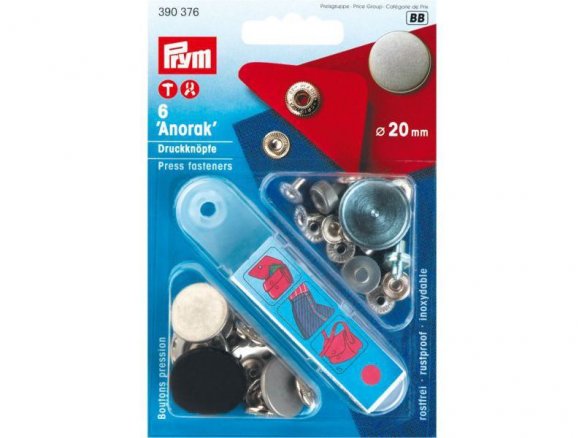 brass, rust-free, medium fastening strength, button consists of a top part (cap and spring) and a underpart (ball and stud), includes riveting tool and directions on use, suitable for use on non-elastic textiles
These anorak press fasteners are only recommended for use on non-elastic textiles because they will tend to pull through the material when you pull to open them. If you do want snap fasteners for an elastic textile, you should get the JERSEY SNAP FASTENERS version.
The included tools (including direction for use) make it easy to create your press fastener out of the separate pieces without the need for any sewing work. A hammer or a Vario EYELET, HOLE PUNCH, SNAP FASTENER PLIERS will be necessary for the job.
Please also note that the fastening strength of these fasteners is divided into three strengths, all of which are available in out store: low, medium and high.
Prym parka snaps, coloured
6 Variants