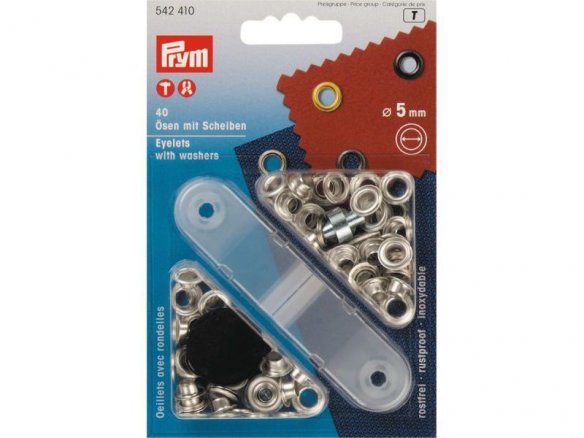 silver, glossy, 2-piece (eyelet and washer), riveting tool and instructions included
These kinds of round or oval eyelets should be familiar because they are often found located around the borders on advertising banners or truck tarps. These eyelets basically serve to prevent the holes through which mounting cords (TENSIONING CORDS) are strung from ripping. The eyelets at hand have thinner wall thicknesses – this allows them to be worked with using basic tools. Industrial quality eyelets used for heavier banners in rougher conditions have greater wall thicknesses that require heavier and more professional tools to work with them.
The accompanying tools can be used to mount the two-piece round eyelets but you will also need a hammer or a VARIO EYELET, SNAP FASTENER AND HOLE PUNCH PLIERS as well.
Prym eyelets with washers, nickel-plated brass
5 Variants