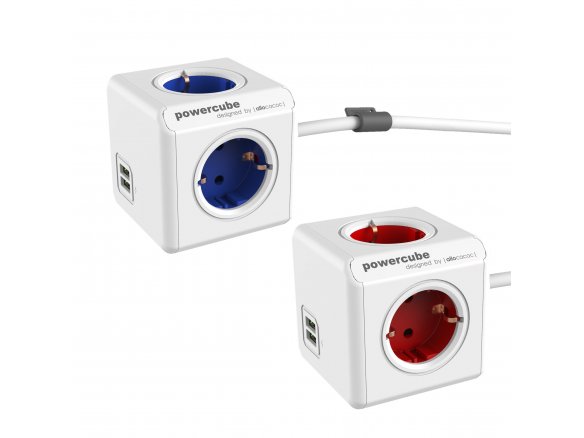 4 sockets and 2 USB ports always within reach
With table top docking station
The PowerCube Extended Duo USB is a multi-socket in an innovative cube shape, which means you have the big advantage of individual plugs and adapters never getting in the way. 4 child-safe power sockets and 2 USB ports are always within reach when you attach the PowerCube to the docking station on or under the desktop, or you can plug it directly into a wall outlet. The supplied, self-adhesive docking station can be attached to all smooth surfaces and removed without leaving any residue.
The two USB ports allow you to charge tablets, smartphones, cameras or MP3 players quickly. By plugging the charging cables directly into the USB ports, the sockets are not blocked by power supply adapters and are available for powering other devices. If you have more demand for sockets, you can use several PowerCubes together and therefore have a compact, tidy power source.
PowerCube rewirable Duo USB, incl. mount, 2 x USB 2,1A 5V, 4 x 230 V, cable 1,5 m, red