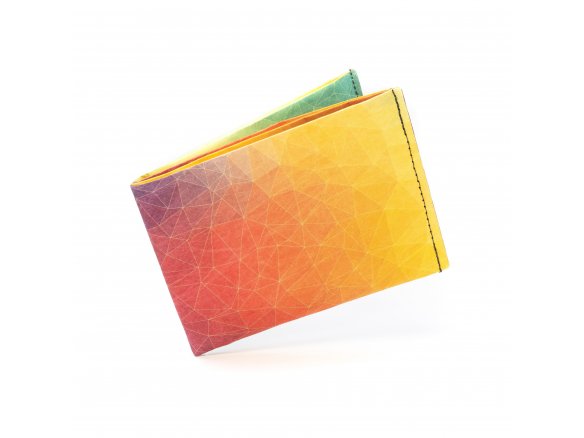 With RFID protection
Made of Tyvek - Vegan and 100% recyclable
Super slim and light
Magnetic coin compartment
Handmade in Germany
Material

Color-printed Tyvek (100% recyclable)

Dimensions closed

110 x 80 mm

Equipment

RFID protection foil, magnetic closure system, space for 12 cards

Warranty

12 months
In the new RFID-secure wallet from paprcutsc, your chipped cards are protected against data theft. This is ensured by a special protective film sewn between the Tyvek layers, which prevents data from being read by readers or apps.
.
Additional benefits: Within the magnetically closing coin compartment, your change stays where it should be, while up to 12 cards sit firmly in the card slots and can be easily pulled out of the rounded "Easy Slide" compartments.
The paprcuts wallet is made of Tyvek, 20% of which is recycled Tyvek (a higher percentage unfortunately leads to quality problems). Tyvek is a paper-like, recyclable spunbond made of polyethylene fibres; very thin and light, extremely tear-resistant and water-repellent. That's why the paprcuts wallet is super flat and light as a feather - perfect as a wallet for going out when you can leave unnecessary cards and change at home.
The label, paprcuts, designs and manufactures its products in Berlin; and Germany and has a recycling concept for Tyvek: If your wallet should ever actually become worn out, you can return it to the company (and get a voucher code for 15% for the purchase of a new wallet). The old product is taken apart (Tyvek, magnet, metal foil) and the Tyvek is sent back to the manufacturer in Luxembourg for recycling.
paprcuts wallet, tyvek, RFID secure, 110 x 80 mm, non-tear, waterproof, Diamond Dawn