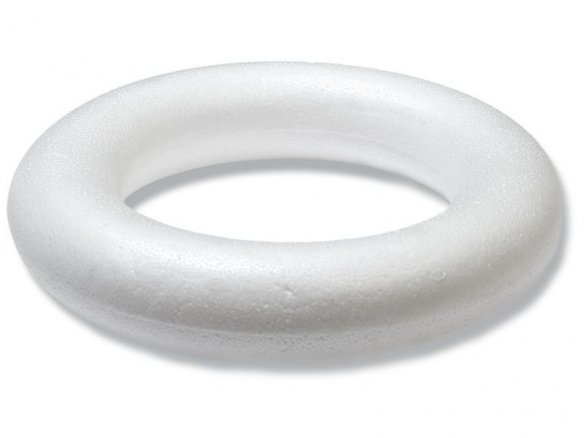 white, medium-pored, given dimensions: outer diameter x material diameter
Rings made from polystyrene foam are lightweight and voluminous while at the same time inexpensive when compared to rings of the same size made out of other materials. They can be wrapped with ribbons or tapes or their surface spackled or sanded down to a smooth surface or painted with a brush or sprayed – the list goes on and on. One possible use would be that you could stick sharp and rod-shaped objects into the foam of the rings as a means of creating a decoration (wreath) or as a storage or safety measure. In addition, the rings are waterproof – in short, polystyrene rings are a versatile handicraft material because they can be used in many ways as a shape-giving body (element) and as decoration. One of our co-workers answered the question "What can you do with these things?" this way: "Advent wreath, Easter wreath, play weddings, ball holder, armband, swim rings for the arms, throwing ring for birthday games, halo, coaster" – now it's up to you to continue this daisy chain of inspiration!
Note: with polystyrene you have to be careful with anything that contains solvent - things like glue, spackle compounds, paints, etc, - because solvent can eat away (corrode) the foam. Polystyrene compatible glues like TESA ALL-PURPOSE or UHU-POR can of course be used on polystyrene shaped pieces for bonding purposes, as can MARABU POSTER PAINT and MARABU SPRAY PAINT be used for colouring purposes. Conventional SANDPAPER can be used for sanding work while DECOTRIC QUICK FILLER can be used for spackle work.
Please note further: polystyrene foam shaped pieces do not have a perfect surface, they often have small recesses that are due to the production process and/or periodic pressure marks as well.
Polystyrene foam ring
5 Variants