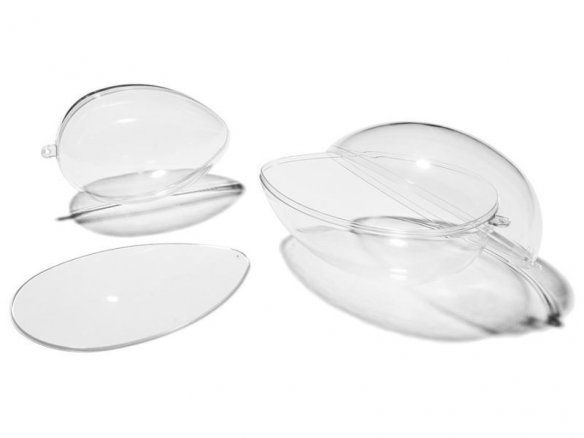 colourless, glossy, with folded seam connection and eyelet, given dimensions = diameter x height, food-safe
Applications: These plastic eggs are comprised of two halves which are joined at a folded seam making them easy to open and close. The eyelet is perfect for hanging them as Easter decorations or in displays. They can also be used as gift packaging, in handicrafts work or for just plain decorative purposes. The fact that they are officially food-safe extends their possible uses even further!
Treatment: If the eyelet gets in the way of your plans, it can be easily scored and broken off. If you want to glue the two halves together - even though that is hardly necessary because the two halves hold together extremely well - it can best be done using DICHLOROMETHANE or RUDERER platic glue but it should be noted that gluing will leave a streaky area where the glue is applied.
For decorative purposes the eggs can be painted on their insides or rotated with liquid colouring within. This produces a very nice marble effect especially when 2 or 3 different colours are placed inside the egg and not mixed together but rather lightly stirred. By introducing the appropriate dividers within each egg half, two different kinds of decorative materials (e,g, easter grass and flower petals) can fill the same egg and create a beautiful Easter decoration. The divider itself can also be painted or glued.
Polystyrene egg, transparent, hollow
7 Variants
Note
This article is only in stock in the time preceding the Easter season.