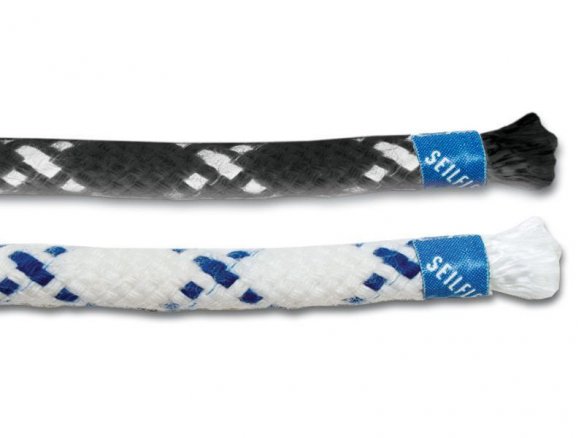 32-count woven sheath made of polyester combed yarn, double-braided polyester multifilament yarn, saltwater resistant, good UV resistance
The name of this rope says it all: it comes from the marine rope sector where it is used as a high-quality sheet rope (halyard) because it is so handy and anti-slipping. We decided to carry this rope in our assortment because its braided sheath is unusually soft and easy to handle - in fact it is almost fleecy, so much so that it could be mistaken for a cotton braid – and we thought that such a rope could be used for a lot of other things besides tying up a boat. In addition, it has such a great feel to it that it can be used as the basis for making all sorts of handles. The sheath is in fact made out of spun polyester combed yarn, which is why it can be used for marine applications or in wet areas without any problem.
That it is especially strong in terms of tearing or breaking is just another advantage. It is therefore extremely versatile with a breaking strength of 50% defining its limits. Because a breaking strength of 1000 daN corresponds to approximately 1000 kg of weight being carried successfully, a measure of the actual permanent load capability of the rope can be calculated be dividing the breaking strength by 2 (= 500 kg).
The resistance to breakage are as follows:
8 mm 800 daN (deka-Newton)

A rule of thumb for these specifications is as follows: The bearing capacity of a rope given in kilograms is determined by combining the resistance to breaking with a security factor that is either higher or lower depending on the intended use. As a rule, it lies between 5 and 10. If you calculate using a security factor of 8, the resulting bearing capacity for a rope with a resistance to breakage of 100 deka-Newton will be 12.5 kg (100 divided by 8). This only applies to a static load and of course only to a new, undamaged rope.
Polyester braided rope, sheet rope
2 Variants
Note
Please note that no exchange is possible in the case of products cut from rolls. The minimum order for products sold from rolls: 0.5 running metre.