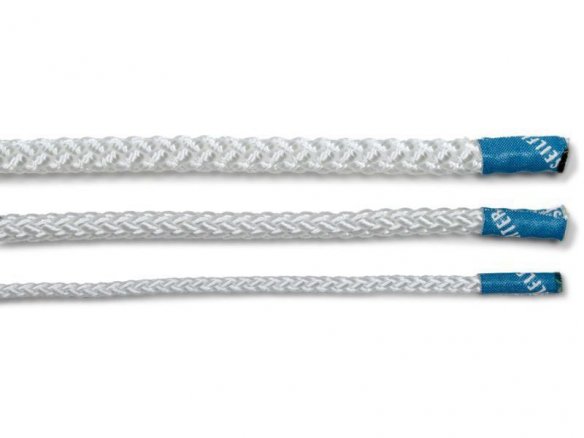 Polyamide (abbreviation: PA), commonly called "nylon", has extremely high tensile strength but is at the same time a comparatively stretchable material that is also distinguished from typical ropes by its unmatched knot strength. Although the glossy nylon braid of this rope is fairly tight, it is still soft and loose enough to work with. It also does not have a core, which contributes to its comparative suppleness and elasticity and to its nice feel as well. This type of braided rope is often used for hanging tarps or projection screens – this is because of the aforementioned excellent knot strength as compared to other rope material; to this can be added the fact that polyamide ropes tend to be lighter in weight than, say, polyester ropes (depending on the ropes configuration, of course).
The resistance to breakage for the individual diameters are as follows:
4 mm 270 daN (deka-Newton)
6 mm 610 daN (deka-Newton)
8 mm 1090 daN (deka-Newton)

A rule of thumb for these specifications is as follows: The bearing capacity of a rope given in kilograms is determined by combining the resistance to breaking with a security factor that is either higher or lower depending on the intended use. As a rule, it lies between 5 and 10. If you calculate using a security factor of 8, the resulting bearing capacity for a rope with a resistance to breakage of 100 deka-Newton will be 12.5 kg (100 divided by 8). This only applies to a static load and of course only to a new, undamaged rope.
Polyamide braided rope, white
3 Variants
Note
Please note that no exchange is possible in the case of products cut from rolls. The minimum order for products sold from rolls: 0.5 running metre.