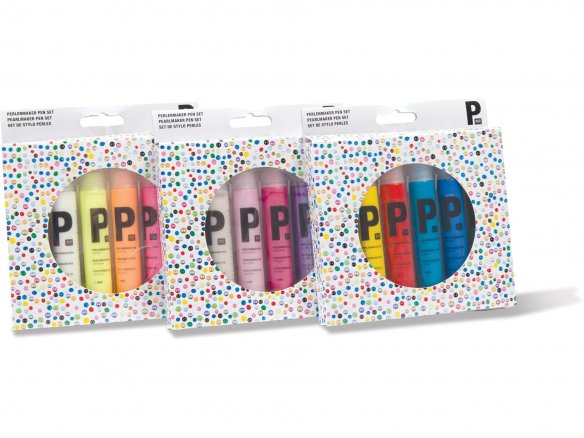 Easy-peasy pearls from a tube
Also for textiles
Washable at 30°C
Set contents

6 x 30 ml in pen form

Presentation

soft plastic pin for pressing, liner tip approx. 0.8 mm

Drying

dried to the touch after 1-3 hours, completely dried after 24-48 hours

Properties

washable (up to 30° C), iron on the left side

Application

On paper, glass, metal, ceramics, wood, textiles, and much more

Classic Set Colors

Yellow, Brilliant Red, Burgundy, Turquoise, Royal Blue, Green

Neon Set Colors

White, Black, Neon Yellow, Neon Orange, Neon Pink, Neon Green

Pastel Set Colors

Transparent, White, Rose Mother-of-Pearl, Pink Mother-of-Pearl, Lavender Mother-of-Pearl, Light Blue Mother-of-Pearl
Small effort, big impact: With the Pearl Maker Pen, you can create half pearls on almost any surface. Use the technique to refine book covers, lampshades, Christmas ornaments, T-shirts, and even your shoes. The mother-of-pearl colors from the pastel set are particularly elegant on textiles. And what looks like hours of sewing work is done relatively quickly with the tube.

Depending on how much you press the soft plastic bottle, smaller or larger beads are formed, which are only a bit sharp after weaning from the top and then automatically become round. Textiles are machine-washable up to 30° C and can be ironed from the left.

Modulor Tip: Practice a few test pearls on a sheet of paper before working on your favorite shirt. With this test, you can find out how much you press and how you have to finish off the tip so that the pearls are a perfect success.
Perlenmaker Pen Set
2 Variants