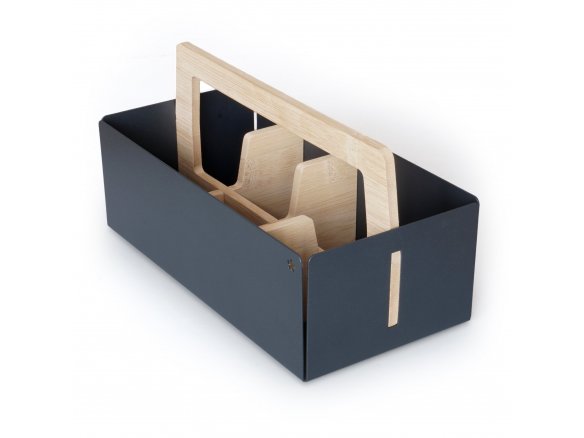 Clever partitioning of compartments with two levels
Beautiful material joints of steel and bamboo
Handmade in Germany
Material

Powder-coated steel sheet (anthracite RAL 7021), bamboo

Specified Dimensions

Length x width x total height incl. bracket (steel box height 77 mm)

Weight

250 g

Equipment

Assembled compartment partition made of bamboo, forms compartments, handles and runners

Design

Tim Plorin & Roman Luyken, Peppermint Products
Here comes your portable toolbox for office or painting utensils, which you can transport back and forth between your desk and handicrafts table, or even make disappear into your closet. The compact organizer made of sheet steel and bamboo is just as suitable for sewing items, cosmetics or baking utensils.
The bamboo divider is so cleverly shaped and assembled that you have both high compartments for pens and low compartments for small parts, over which you can still place rulers or removable boxes.
What we find most exciting, however, is how simple and economical the parts of the toolbox are to assemble - without any additional fasteners or adhesives: The container is formed from a single piece of folded steel sheet, open joints remain at the corners (no liquid gets in). The compartments with the bamboo handle are inserted into each other and fit exactly into the slots on the sides and bottom of the steel box. All connections fit exactly without wobbling and can still be disassembled and reassembled.
Smart detail: On the floor, the bamboo parts push through the steel body and place it on runners. This keeps your table top free of scratches.
Peppermint Products desktop organizer tool box, steel, bamboo, 230 x 120 x 120 mm, anthracite