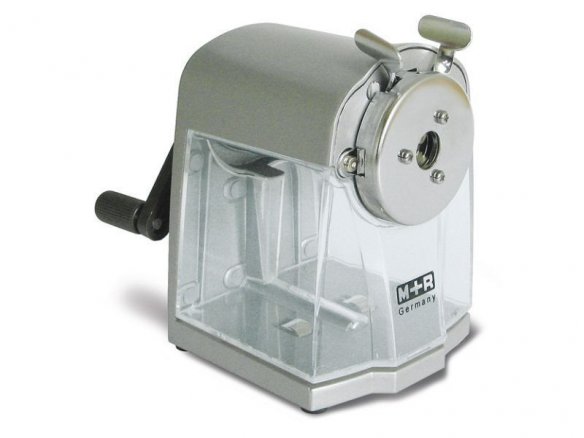 hammered (dimpled) grey varnished cast steel housing with transparent collector receptacle, adjustable sharpener, automatic stop, includes table clamp
Since the advent of lead and coloured penciles people have been searching for the most effective method of keeping the point sharp. Well into the 19th century pen knives were used but these were not only dangerous but also ended up wasting a lot of material and time: the pencil sharpener was developed for this reason!
This metal crank pencil sharpener is a cylinder miller for 11 mm diameter pencils. There is a small screw on the crank with which the length and shape of the pencil point can be adjusted (long and sharp or short and blunt). Here´s a good tip: if the sharpener refuses to operate it is usually because the above mentioned screw is too tight!
Pencil sharpener, metal, for pencils up to ø 11 mm