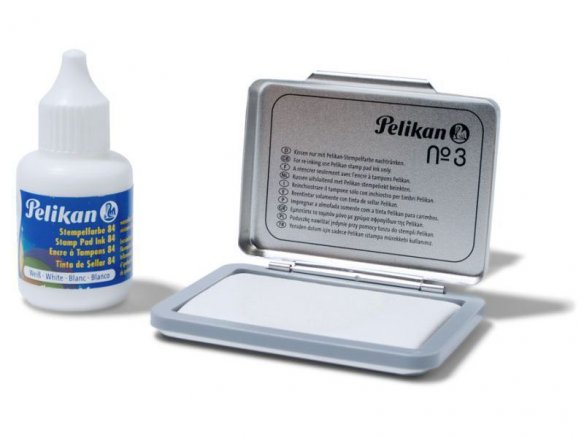 plastic bottle with applicator (inner diameter ca. 0.8 mm), for rubber stamps, acid-free, opaque, without stamp pad
Description
Hazard warnings
The Pelikan stamping ink 84 can be used with absorbent (fabric, leather, wood) and nonabsorbent surfaces (metal, sheet metal, glass, porcelain, plastic).
For occasional use of this stamp ink, a non-impregnated stamp pad will serve you well. Because of pigments present in the ink as well as its volatile solvent, however, it will tend to dry out fairly quickly and hardens with time. For long-term use it is best to use a piece of WOOL FELT (thickness of 0.5 mm) and a closable container (e.g. our PLASTIC CONTAINER, TRANSPARENT) to make the equivalent of your own stamp pad!
Tests have shown that stamp motifs with fine lines produce better results with this ink than motifs with large areas. In the case of stamps with larger printing areas the ink will be pressed outwards when the stamp is applied to a non-absorbent surface (glass, plastic, metal, etc.), thereby making the edges of the motif appear blurred and uneven.
This Pelikan ink can also be used in quill pens or for drawing with a brush but is definitely not suitable for use in a fountain pen.
Danger, Ethanol = > 5 - <= 10 %, Triphenylphosphat = < 0,5 %, (VOC-Gehalt = 70 %), Flam. Liq. 3
Hazard warnings
H226: Flammable liquid and vapour.
Safety instructions
P102: Keep out of reach of children.
P210: Keep away from heat, hot surfaces, sparks, open flames and other ignition sources. No smoking.
P370+P378: In case of fire: Use … to extinguish.
P501: Dispose of contents / container to …
Pelikan stamping ink 84, 30ml, white