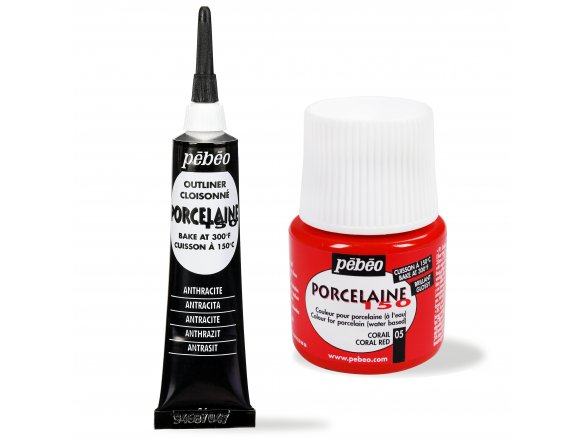 water-based, glaze or opaque depending on the hue, highly lightfast, all colours intermixable, drying time is 24 hours, solvent-resistant and dishwasher-safe after baking in oven (35 minutes at 150 °C), not food-safe!
Set of 6 contains: ivory, pale yellow, crimson, lapis lazuli, olivine green, anthracite
Porcelain 150 is a heat-cured porcelain paint for materials that can withstand being baked in an oven like, for example - you guessed it! - porcelain and ceramic, stoneware, crockery, glass and metal. For applying this watery paint over a larger area it is best to use a bristle brush; for relief-like contours or thin lines it is best to apply the thicker Pebeo 150 "outliners" directly from the squeeze tube they come in, utilizing the tapered tip that is the top. After drying for 24 hours the paint can then be baked in an oven for 35 minutes at 150 °C. Keeping your temperature at precisely the given degree is very important for achieving optimal results! For this, the PEBEO OVEN THERMOMETER is a very useful aid!
The porcelain 150 can be thinned, brightened or delustred with various mediums (see: PEBEO MEDIUMS FOR PORCELAIN 150). Porous surfaces like crockery must be treated first with a pore-closing primer. These, too, can be found among the mediums mentioned above. Under the name PEBEO PORCELAIN CHALKBOARD BLACK a black version that can be written on with chalk after being fired.
Pebeo 150 porcelain paint, glossy
44 Variants