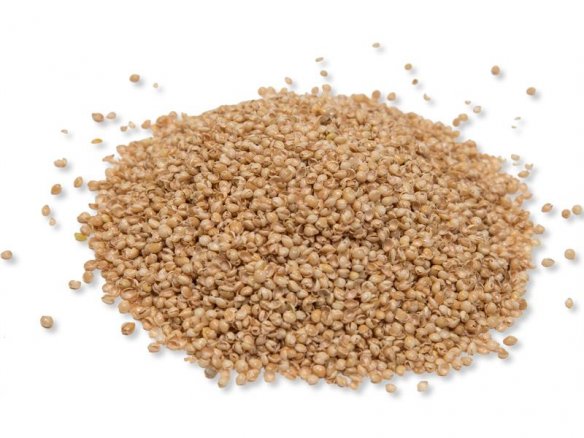 natural organically grown filler, lightweight, small grain, breathable, provides good support, high proportion of silica, 1 kg corresponds to 12.0 litres (+/- 5%)
Husk of millet from controlled organic cultivation can be nicely used for making shape-adaptable and supportive pillows or comfortable orthopaedic seat cushions and bedding pillows.
Fill volume for pillows:
400 x 800 mm = ca. 2,0 kg
400 x 600 mm = ca. 1,5 kg
300 x 600 mm = ca. 1,3 kg
Millet is very lightweight, fine grained, odourless and breathable. The movability of the grains make possible the easy adjustment to every body type and head shape so that tension, cramping, shoulder pain, head aches and migranes are relieved. Simply shaking it out will keep a millet pillow in shape; it is, however, recommended that it be aired out and dried (sun, heater or dryer) in order to preserve the beneficial effects. The filling material of a pillow should, however, be changed after about three years (for hygienic reasons).
In contrast to spelt, husks of millet should not be heated in a microwave oven (fire danger!).
Organic husk of millet, natural, PE bag 5 l
Accessories and Related Products