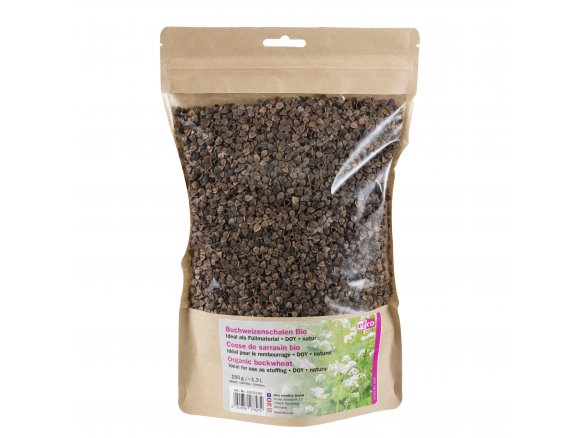 Natural filler from organic farming
For firmer, supportive fillings
Adapts well to the body
Low noise
Material

buckwheat husks

Properties

fine, breathable, dimensionally stable, good support function, moisture and heat regulating, low noise, not washable, hypoallergic

Use

sleeping and pillows, neck rolls, meditation / yoga pillows

Recommended filling quantity for cushion

400 x 400 mm = approx. 1400 g

Important

not suitable for heating in a microwave or oven (risk of fire)
A pillow filled with fine buckwheat hulls is a bit firmer and heavier than spelt husks nd only emits soft trickling noises. A buckwheat pillow is the ideal pillow: it adapts well to your head, at the same time gives you a strong hold in the neck area, massages, and promotes blood circulation.
A buckwheat filling regulates moisture and excess heat so that you sweat less at night. A buckwheat pillow can help you naturally with sleep disorders, migraines, or tension in the neck and back muscles, because the small pods have a calming effect on muscles and nerves.
Although buckwheat hulls inhibit the development of pathogens such as microorganisms and dust mites, you should replace the filling material after about 2 years for reasons of hygiene. If you put the (non-washable) bowls in a cushion cover with a zipper, you can take it out to wash the case, but you can also easily regulate the filling quantity. Cleaning is even easier if you fill the buckwheat hulls in a separate bag that you can completely remove from the casing.
Organic buckwheat husks, dark brown, PE-bag, 200 g (ca. 1,7 l)