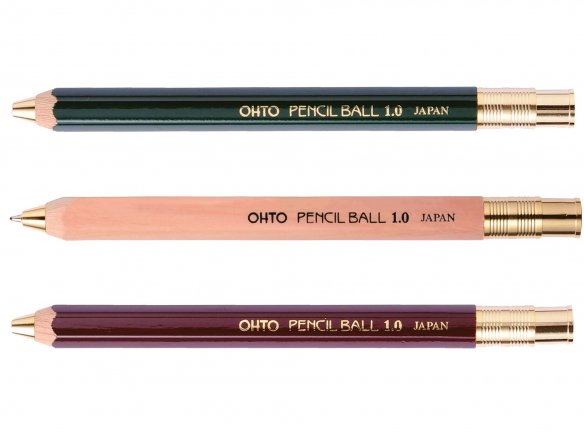 Surprising
Wooden casing
Soft writing feeling
Precisely handmade in Japan
Casing

hexagonal shaft in lacquered and printed cedarwood

Features

brass tip and button, exchangeable refill

Ink mine

Ohto Mine OHT-RFL1-891NP (Soft Ink, oil-based, black, line width 1.0 mm)

Dimensions

10 mm diameter, length = 135 mm

Weight

10 grams
What looks like a sharpened pencil is an unusual pen from Japan with high-quality print mechanics. The hexagonal painted cedar shaft gives you a classic "old-school" feeling when writing, while the soft-writing Ohto Soft Ink refill brings a consistent and clear print to the paper. With its 10 g, the Ohto Sharp Pencil is lightweight, but the 10 mm thick shaft is well balanced in hand.
Combined with the Ohto pencil, Sharp Pencil 2.0, the Pencil Ball makes a great gift in a retro look.
Founded in 1929, Ohto is one of the oldest pen manufacturers in Japan. Developing the first ink roller at the latest in 1964, the company from Tokyo is world renown for its innovative and high-quality writing instruments.
Ohto Pencil Ball 1.0 wooden ballpoint pen
4 Variants