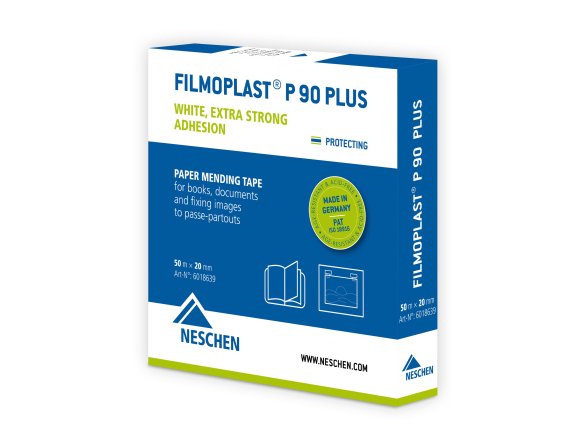 special longitudinal-fibred paper ca, 50 g/m², tear resistant, wood and acid free, aging-resistant, CaCO3 buffered (pH 7.4), solvent-free acrylate adhesive, paper covered
P 90 Plus was specially designed for picture framing work. It is different from the filmoplast P 90 in two ways: its special adhesive is almost twice as strong and it is even more tearproof.
Filmoplast P 90 Plus is great for mounting objects on passepartout or for attaching a back panel. It is also good for making dust-free bonds on rear panels and picture frames. Rougher surfaces are also not a real problem because it achieves a great bond on these as well. Although P 90 Plus is somewhat thicker (50 g/m²), it protrudes very little, adheres closely, bonds well in mortises and wraps well around edges.
Neschen paper mending tape, filmoplast P 90 Plus, w = 20 mm x 50 m, white, strong adhesion