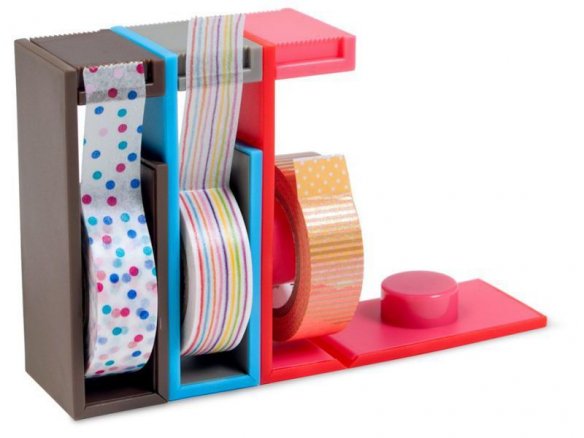 plastic, 2 toothed plastic cutting edges, for tape up to a width of 15 mm, magnetic, for right and left handers
The Mt tape dispenser provides a means for cutting pieces of WASHI ADHESIVE TAPE from a roll quickly and cleanly. It is therefore ideal for use with any project where a great deal of taping is required, for example, collages, large area decorations or packing the whole family's Christmas presents. The fact that there are two cutting edges means that the tape can be comfortably cut from the front or the back (or the right or left, if you will). Another nice feature is the magnet it contains: it allows the tape core holder to be opened with just a single manual action (pulling it open!) and the roll changed in a jiffy – in addition, the magnetic core holder will stick to any metal surface (making the dispenser readily available when working around metal) as well as one core holder to another if you have multiple dispensers. This last feature allows you to have a good overview of the different tapes at your disposal.
mt tape dispenser for Washi adhesive tape
2 Variants
Note
Please note: this dispenser only works with Washi adhesive tapes with a maximum width of 15 mm.