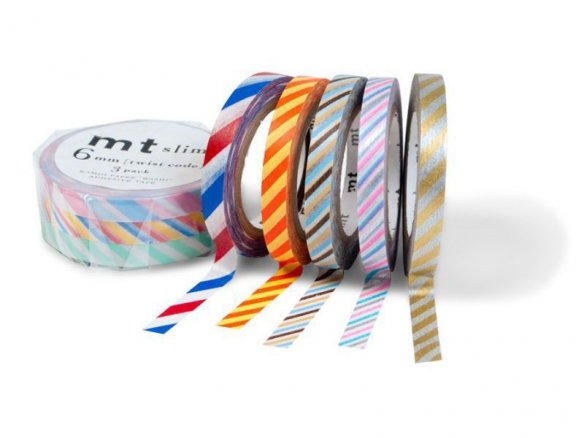 10 m per roll, w = 6 mm, rice paper, semi-gloss, th = 0.05 mm, acid-free, solvent-free acrylate adhesive, removes without leaving residue, roll inner core is 30.5 mm
Masking tapes, or Washi tapes, are colourful adhesive tapes made from rice paper that have a multitude of uses because of their appearance and workmanship. They can be torn by hand, will stick to practically any surface, leave no traces when removed and can be written on. What more could you ask for?
mt Slim is the particularly narrow version of these tapes that comes in packs of 3 that lend themselves to the purposes of designing, crafting, marking or packaging. The mt Slim Twist Cord version of this tape look like a colourful cord and are perfect for making packages or gifts that much more attractive.
mt Slim (Washi) masking tape, patterned
3 Variants