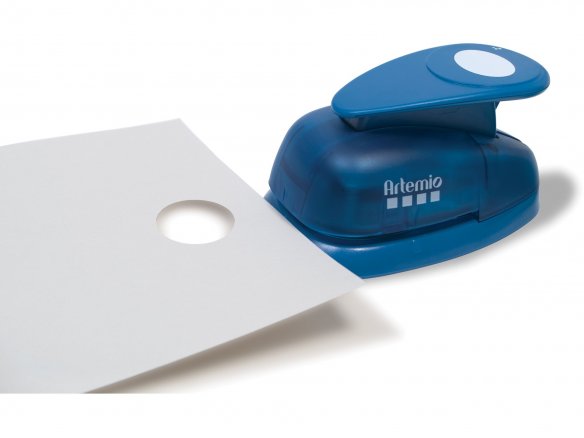 Containers

collection container with safety cover
This motif punch allows you to punch out motifs from paper, cardboard and thin plastic; such motifs can be used as gift tags, labels, game board tokens and much, much more. Conversely, the material from which the motifs have been punched end up with decoratively shaped holes that can, for example, for card decoration or for practical, large openings for hanging purposes. Punched out plastic film with the remaining negative shapes can also be used as templates, e.g., in textile painting.
Our tests have shown that four to five sheets of 80 g paper can be punched at a time. When punching cardboard, the maximum allowable thickness is 300 g/m² (photo mounting board); in the case of plastic films the maximum is 0.2 mm. The punch mechanism can be sharpened by using it to punch through aluminium foil, while lubricating the mechanism can be achieved by punching wax paper.
A great deal of effort is not required because of the spring loaded nature of the mechanism, a feature that allows it to be used by children in handicraft projects.
Motif punch
9 Variants
Label
Circle
Circle with decorative border
oval
square-holed, square pitch