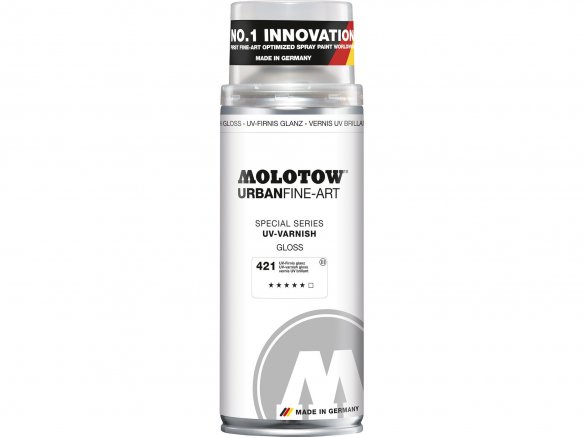 UV resistant varnish is acrylic-based, glossy (depending on the substrate), transparent (no coverage), hazard warning Xi = irritant, F+ = highly flammable; 2K lacquer is acrylic-based, scratch and smudge resistant, high degree of weather and UV resistance, hazard warning Xi = irritant, F+ = highly flammable
These one-component Urban Fine-Art UV varnishes provide UV protection with finishes that are either glossy or rather more matte. Each can be used on spray painted or painted surfaces or artworks on any kind of substrate. They can aso be used both indoors and outdoors. These varnishes are adapted and tested for use with all the Molotow paints. Preliminary tests should be made before applying them on paints from other manufacturers!
The best results are produced by applying thin coats at intervals of five minutes. A thin application is generally dust-dry in about five minutes depending on the thickness and is completely dry in a few hours, whereby it is then weather resistant. After use, the can should be turned upside-down and sprayed for about three seconds in order to clear the valve so it won´t be clogged when dried out.
2K:
This two-component high quality clear lacquer is highly transparent and guarantees the greatest degree of abrasion and scratch resistance. In addition, it is also highly resistant to weathering, chemicals and petrol. Put another way: fine art treated with this sealing varnish will be optimally protected when outdoors or exposed to wind or weather. Its low viscosity allows it to spread to a smooth, glossy protective layer and also to be used for larger surface areas. Afterwards, the surface can be nicely polished. For this lacquer the rule about making preliminary tests before using it on paints from other manufactures also definitely applies!
Molotow Urban Fine-Art, varnish/lacquer
3 Variants