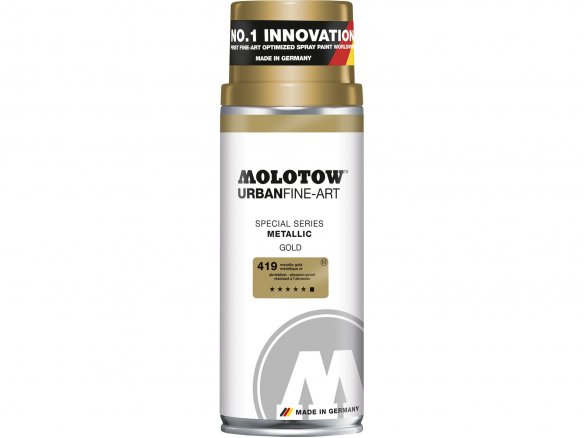 acrylic-based paint, semi-gloss (degree depends on substrate), excellent coverage (opaque), smudge-proof, weather resistant, UV resistant, hazard warning: Xi = irritant, F+ = highly flammable
The Urban Fine-Art metallic is a highly pigmented, permanent, high qualiy acrylic-based paint for indoor and outdoor use. The metallic effect is not as pronounced as it is with the Urban Fine-Art Effect sprays but it does have the advantage of being smudge-proof and weather resistant. The paint comes in both gold and silver versions. The highest degree of colour intensity is produced when a primer coat is first applied - for example the Molotow Fine Art Filler. The best UV protection is achieved by applying a coat of Molotow Urban Fine Art UV varnish, which is available in both matte and glossy versions.
The best results are produced by applying thin coats at intervals of five minutes. A thin application is generally dust-dry in about five minutes depending on the thickness and is completely dry in a few hours, whereby it is then weather resistant. After use, the can should be turned upside-down and sprayed for about three seconds in order to clear the valve so it won´t be clogged when dried out.
Molotow Urban Fine-Art, metallic
2 Variants